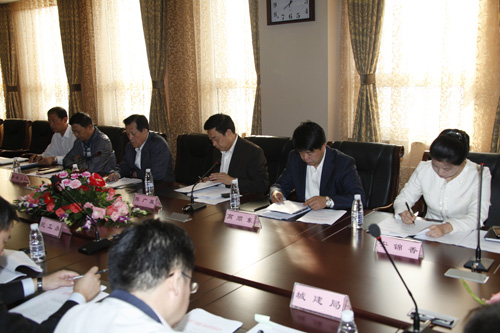 On 30 September, the District Management Committee convened the fourth quarter work schedule meeting to review and summarize the work situation of the third quarter of this year, and make arrangements for the major tasks of the fourth quarter. District Management Committee Director Xu Changyuan emphasized that the entire district must unite and strive together, abiding by the requirements of the countdown, seize time and at the fastest speed, pay attention to carrying out practical work and resolutely complete or exceed completion of the various tasks of the entire year.
The meeting reported the completion status of the various key economic indicators of the previous three quarters. District leaders Chen Guangyin, Li Laiyi, Gao Shundong, Li Huimin and An Jinxiang conducted a systematic review and deployment schedule for the work of their various responsibilities.

District Management Committee Director and Party Committee Secretary Xu Changyuan made an important speech during the meeting. He pointed out that in this year, we have overcome the disadvantages caused by the delay in fundamental improvement of the overall social, political and economic environment at home and abroad with tenacious hard work, undertaking the enterprise with painstaking efforts, and not only were the main economic indicators completed relatively well, but new improvements were made to the macro environment: New developments were made in the petrochemical industry and significant progress was made in infrastructure and urban construction, making new breakthroughs. The present Changxing Island stands at the forefront of a new round of National reforms and opening up, becoming a policy highland for the opening up of the Northeast and even the Bohai Sea Area, with great developmental prospects and immense potential.
Xu Changyuan said that they must organize their ideas into shape, increase work efforts, strive for the undertaking and turn the region into a high-end port industry, and a highland for technological innovation and ecological livability as quickly as possible.